The "Second Animal Production Fund" is a short-term, closed-ended investment fund, i.e. limited in life and capital. This fund was established for the purpose of mobilizing resources from investors in the form of restricted speculation (Restricted Mudarabah).
Fund Objectives
Attract investors' savings and develop them in the areas stipulated in the prospectus.
Contribute to the development of the investment fund industry in the country that supports the field of production.
Working to support the animal production sector by providing financial resources to financiers in the various fields of animal production.
Underwriting
Applications can be submitted to the subscription centers according to the application prepared for this purpose, and this is done on official working days, which are all days of the week (except for Friday, Saturday and official holidays) from nine in the morning until two in the afternoon.
The subscriber shall deliver a financial receipt of the amount subscribed showing the number of the bonds subscribed to and the price of the instrument paid. This receipt is considered proof of the ownership of the bond until the fund is listed in the secondary market, after which the title deed of the bond is issued from the deposit center in the market.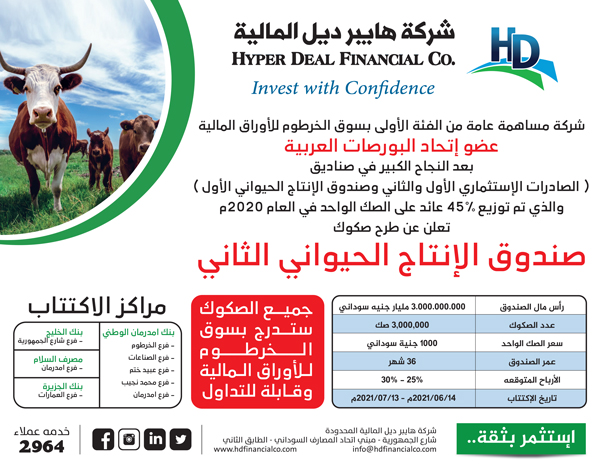 Subscription centers: financial :
Omdurman National Bank – Khartoum Branch.
Omdurman National Bank – Omdurman Branch.
Omdurman National Bank – Industries Branch.
Omdurman National Bank – Mohamed Naguib Branch.
Omdurman National Bank – Obaid Khatim Branch.
Alkhaleej Bank – Gamhoria Street Branch.
Al Salam Bank – Omdurman Branch.
Al-Jedyan financial services company.
The Emirates Company for Financial Transactions-AL- Baraka Tower, seventh floor.
Hyper Deal Financial Co., Ltd.- Sudanese Banks Union, 2nd Floor,