Technical Analysis Service
Follow market performance and forecast future trends using historical price data and various technical analysis studies covering international and regional markets. You can use our insightful technical expertise in the selection of research products, which include: international and regional indices, commodity price movement, currencies and metals, technically wise, trades with high profit potential, short-term updates, special releases and prospectus, financial market indices and international and regional players.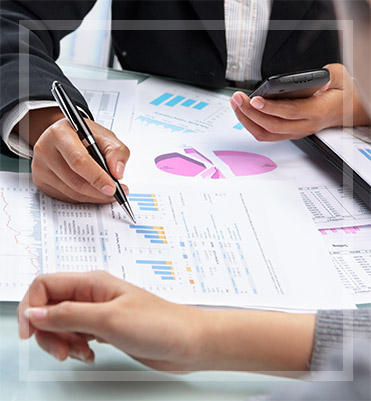 Technical analysis is the study of the past trend of the stock price and the amount of its trading, to try to predict its future direction. Specialized programs are used to convert price changes into charts that link the price to time. Technical analysis is widely used among traders and speculative professionals. It is an art, not a science, as some think. But the disadvantage of this art is that it depends on expectations, and some people attribute the spread of technical analysis to the ease of learning it. Modern day technical analysis started with reading changes around currency prices and its goal is to help understand the logic behind trading. When technical analysis is well understood, it helps the trader or investor in his choices and decisions when trading, it helps in creating or building a logical system and an organized strategy. By studying price technical analysis helps to develop a pattern for a trading path with the help of charts.
Detailed reports including charts
Charts help traders choose the right buy points, sell points or breakouts. It is appropriate for a stock trader to buy the stock at the lowest possible price and sell it at the highest possible price. Through the chart, traders seek to buy stocks as close to the bottom of the chart and sell them at the highest possible point of that chart, then buy back at the lower price again and sell at the higher prices and so on as high as they argues.